A few pictures of some flowering things.... My flowerering crab tree. (You can also see my dead grass in the yard.)



It was a Mother's Day gift a few years ago. I thought we better get a picture of it before the storms hit.

And, my bleeding hearts plant.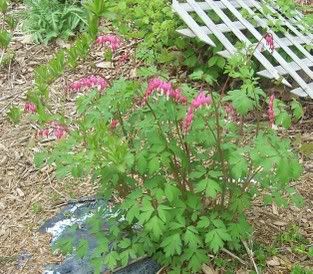 I need to catch up on the SBQ's, so here goes:


SBQ - April 5, 2006

Do you stitch "on the go?" (On the commute to and from work, during
your lunch break, waiting for the kids, etc.) If so, do you have a
specific "travel" project or do you just grab whatever you happen to
be working on and take it with you?


I've been known to take projects with me if I know I will have 'wait' time. Usually it is something on a larger count fabric, as I don't know how good the lighting will be. I have a tabletopper in a tote that I can always grab to take with me. (I did stitch two tabletoppers during my husband's hospital stay.)

SBQ - April 12, 2006

For those of you that stitch while riding in the car or on the train,
how do you cope with the bumps and the motion? Do you have any tips
for others?


I've stitched in the car during trips, but, have not done so in quite awhile. I guess I would say that when I did, it was something simple, and of one color, so as not to have to mess with a lot of changing colors.

SBQ - April 19, 2006

Do you do obligation or deadline-based stitching? Why or why not? If
you do, do you tend to get in over your head and why?


I've done model stitching, and Round Robins, and am just now joining some exchanges. I will probably not do model stitching again -- too much pressure to finish in a certain time frame. I've done my bit with the Round Robins also. I enjoyed the last one I was in, but, I've had a few get lost, so, I'm not joining any more. The time frame on those was not a problem. I tried to start them as soon as received, so I was not pressured by a date to mail, and not having it finished. The few exchanges I have joined, I have already started the stitching, and hope to have them done way ahead of the mail date. I limit the number of obligation/deadline stitching... You just never know when life will jump out and give you something unexpected.

Thanks for reading, and thanks to all who comment! It makes my day!


Stitching on today: Lizzie Kate Christmas Blessings