So... what has everyone been up to??
For myself... not much! Sunday was a pretty nice day -- DH cooked steaks on the grill. Son came over for dinner. I received some lovely flowers and a gift card from Joann's!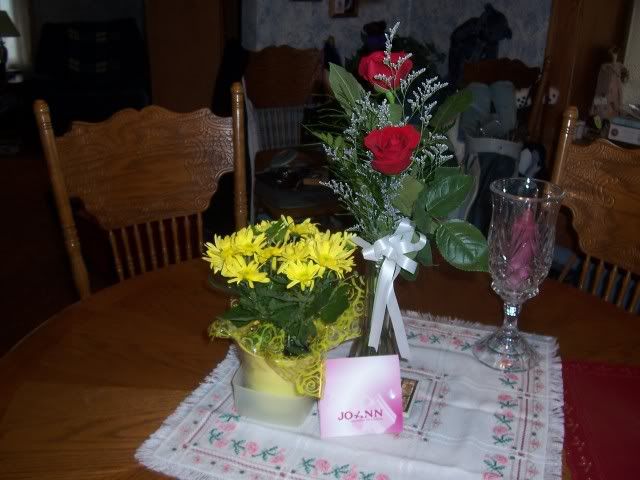 On the stitching front... I didn't get much stitching in on the DT Sampler Game Board. I hope my other SAL members got some stitching in! Anywho... here is an update photo:
Yesterday, I got quite a bit in on CCN Ladybugs and Bumblebees. Here is an update on that one: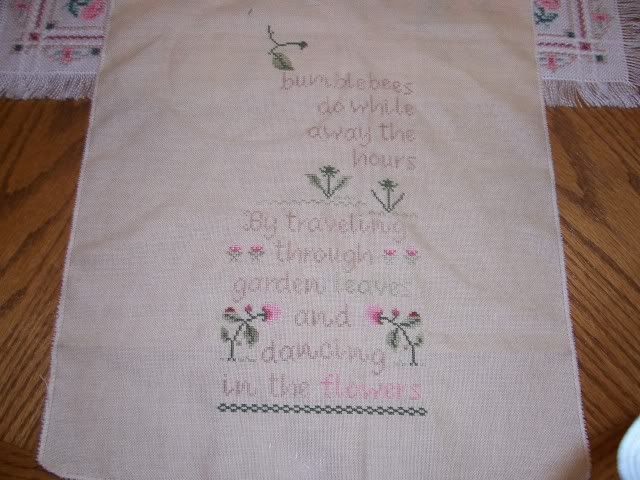 And... the little Freebie I did from
Blue Ribbon Designs
(Thanks
Lili
!) "The Alphabet Tree". I stitched this with one of the beautiful fibers I got from Nancy in the Grab Bag Exchange.
Now a stash report! My sister and BIL stopped over on Saturday, and they brought me some goodies!!
In the package was a punch needle design my BIL had made me... a couple of frames, (he makes those for me too!), a darling cat frame, some books, and the cutest card!
I also got my Online Needlework Show order yesterday!! I caught the 'Mail Lady' just as she was about to fold the envelope to get it in the mailbox! Here's the goodies from that one:
I had ordered: Debbie Draper Designs 'Sampler in Blue' and it comes with the Vickie Clayton silks!; Abbely Lane Designs "Sonata'; Lavender Wings 'Tiny Sprouts'; Designs by Lena Rose 'Wildberry Petals Sampler'; Glory Bee 'Happily Ever After'; and Full Circle Designs 'Flame of Friendship'. The only one I want to do right away is the Glory Bee. The others will be impatiently waiting in the wings!
So... just because it's Tuesday -- here is a picture of my new golf bag and clubs! And the sun is trying to come out!!! I was beginning to think we were never going to see the sun again...
And, my rose bush that is growing out of control -- again!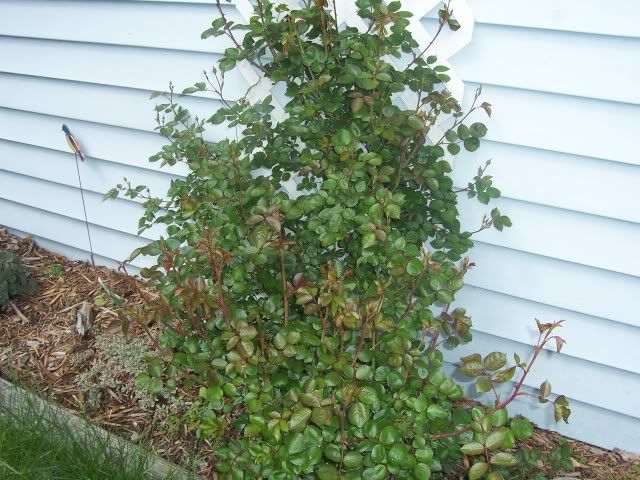 Have you made it this far?? Here is a new blogger's site:
Raggedy Ree
(aka: my sister). I got her started, now it's up to her to post! I think she'll like it when she gets more comfortable with the set-up.
If you are getting any sunshine -- enjoy!!! I'm thinking I'll be stitchin' on my exchanges the next little bit. I want them done in plenty of time for mailing! And, I'm thinking of joining
Anne
and
Katrina
on the next Needleroll SAL the second weekend in June. I have quite a few needlerolls kittied up, so maybe this will motivate me to stitch them! :-)
Stitching on today: ??? can't tell!!