School starts in two weeks!!! Can you see I am ready now? Maybe I can get back in a routine after that...
Okay... on to the last month of SBQ's before today's comes in my mailbox!
SBQ - July 26, 2006
Many of us have a few pairs of embroidery scissors and some even have
a "collection". How many pairs of scissors do you have? Feel free to
share a photo of your favorite pair or pairs with us!
I have way too many pairs of scissors! At least more than 10! I like to keep a pair with each project, so if I feel the urge to 'grab and go' with a project, I don't have to worry about not having scissors! (And a good excuse to make up neat fobs and holders!)
SBQ - August 3, 2006
Do you have a favorite needlework tool that you like to work with?
What is it and why do you like using it?
Hmmm... I don't think so! I have my stitching nook, with my lamp, magnet board, footstool and ort container.... And I usually use a hoop. I guess all those would be considered 'tools' that I use. :-)
SBQ - August 9, 2006
For those of you who use hand or over-dyed floss, how do you store it?
I have really started to use these more and more! I place each one in a floss bag, and sort them by type. My Brother-in-law got me the neatest thing for my floss storage! It is an old library card file, and it is perfect for storing the floss bags! I have all my DMC, and over-dyed stored in this cool little cabinet!!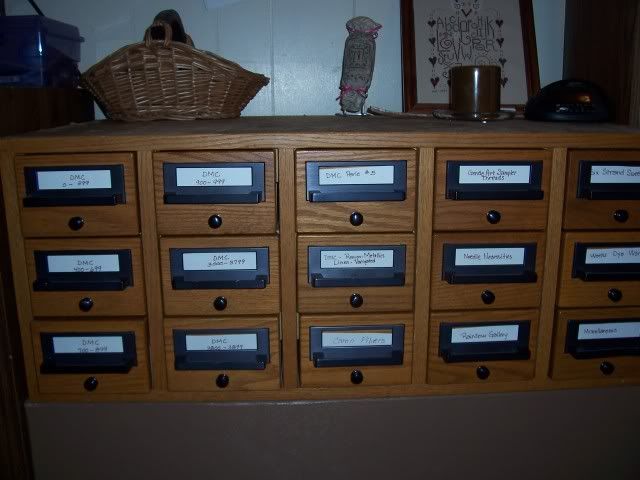 SBQ - August 16, 2006
Do you have an organizational system for your fabric? If so, what is
it? If not, what do you store your fabric in?
How do people store their fabric, especially those small but
potentially usable pieces? Do they sort by count? How do they label it
or otherwise know what each piece is?
More or less... I have small totes for smaller cuts, and large totes for the other. The small totes are labeled by count, and then in each tote, sorted by color. Each piece is labeled for size and type, and color name. I have small totes of 28ct, 32ct, and miscellaneous small cuts. The large totes are 28ct, 32ct, Aida, and miscellaneous (afghans, anne cloth, odd counts). I tend to keep small pieces, as they are useful for fobs, bookmarks and ornaments.
And... my son moved out about a year ago, so, I decided it was time to take over his old room as my craft room! I've been slowly getting organized, and can show a few pictures. If anyone has any ideas -- I would be glad to hear them! I still have to move my charts and books to the shelves, and move his stuff off them. :-)
No stitching update pictures... the last two I took were for exchanges, and I can't share them yet! I need to take a picture of Quaker Garden to share with you.... I am making slow progress on it, but, am enjoying the stitch!
That's it for now!!
Stitching on today: Quaker Garden!!